Emory Andrew Tate allegedly confessed to the current accusations made against him. A wiretap of Andrew Tate allegedly discussing his unlawful actions has purportedly been made public while the social media figure and his brother Tristan Tate are being held in Romanian custody.
Netizens are understandably shocked by this.
Tristan and Andrew Tate are being held in a Bucharest "detention centre" on charges of r*pe, attempting to organise a criminal organisation, and trafficking in human beings.
Digi24, a Romanian news outlet, recently revealed that Andrew Tate had been tapped and acknowledged the accusations made against him. In a social media-famous transcript, the influencer began by telling a victim that they could "possibly predict" how much money he makes and that he had to "hide" his true line of work.
The victim inquired as to Andrew Tate's reference to his "web cam" company. Tate's response was as follows:
"For a long time I did this with a team of girls working on video chat. The company was fake, but this is how I laundered my dirty money. Some of the girls who worked for me… I used them to do other things. To move money or illegal things, documents, etc. I will never do that with you."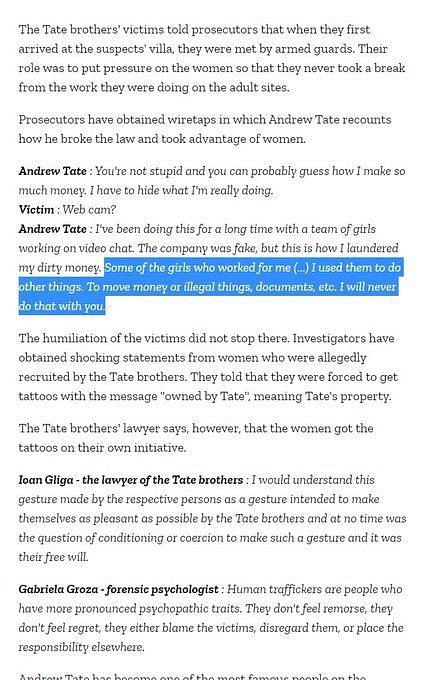 Netizens react to Andrew Tate's wiretap confessional
Netizens urged him to serve time in jail after the transcript was posted on social media. Although many people were shocked to see the self-styled "Top G" confess to his misdeeds, some people were not shocked that the internet celebrity was engaging in criminal activity.
It is significant to remember that, according to known facts, the influencer was not initially under investigation for money laundering. However, when further accusations against the 36-year-old surface, it's probable that details regarding his other fraudulent endeavours may also become public.
Andrew Tate may possibly be hospitalized during Romanian detention
The social media personality's official Twitter account recently tweeted a vague message that read:
"The matrix has attacked me. But they misunderstand, you cannot kill an idea. Hard to Kill."
A Spy News link was also included in the post, where a Romanian news source reported that one of the Tate brothers actually visited the hospital.
This took place following the boys' routine medical examinations in custody. According to sources, Andrew Tate was brought to the hospital when a node developed in his lung. For those who don't know, a pulmonary nodule is a lung tumour that typically isn't cancerous but occasionally can develop into one.
Andrew reportedly went to the hospital to have the nodule evaluated by a doctor after seeking a biopsy to make sure it wasn't a cancerous growth.
The aforementioned information has not been validated by law enforcement, nevertheless.